Carpet Collection in Lockport, NY
Learn About Luxury Vinyl Tile
With so many Luxury Vinyl Flooring options, you need an expert to guide you – and with Carpet Collection in Lockport, NY, that's precisely what you'll find. You can learn more about the benefits of LVT flooring below. 
At Carpet Collection, we're here to help educate you on the benefits of luxury vinyl tile, LVT, flooring.
Luxury vinyl flooring has gained popularity in recent years, with rigid core flooring being the most commonly chosen option for homes and offices. Use the acronyms below as a guide as you seek to learn more about LVT.
LVP – Luxury Vinyl Plank (wood looks)
LVT - Luxury Vinyl Tile (tile and stone looks)
LVF – Luxury Vinyl Flooring (some use this term to refer to the entire category)
EIR – Embossed in Register (the embossing follows the wood grain)
WPC – Wood Plastic Composite Core
SPC – Stone Plastic Composite Core
MGO – Magnesium Oxide or Mineral Core
It is crucial to consider your vinyl wants and needs before deciding between LVT or another type of flooring available. Luxury vinyl tile will provide you with the look of tile or natural stone flooring, along with the enhanced benefits of an engineered flooring option. You can learn more about those benefits below today.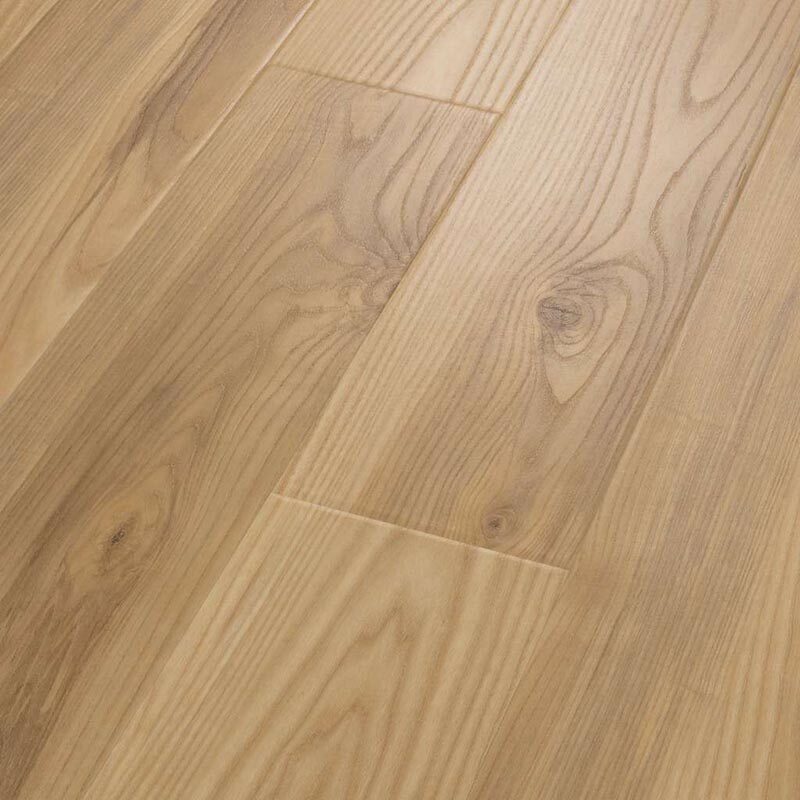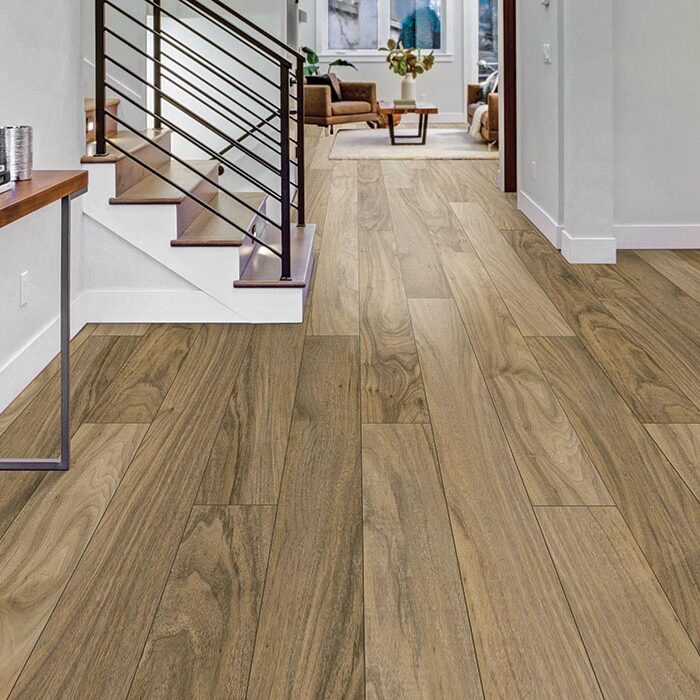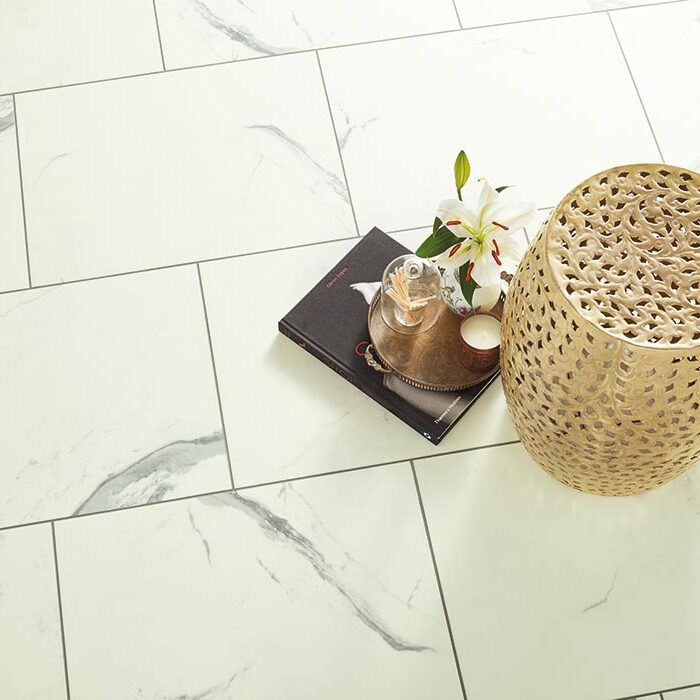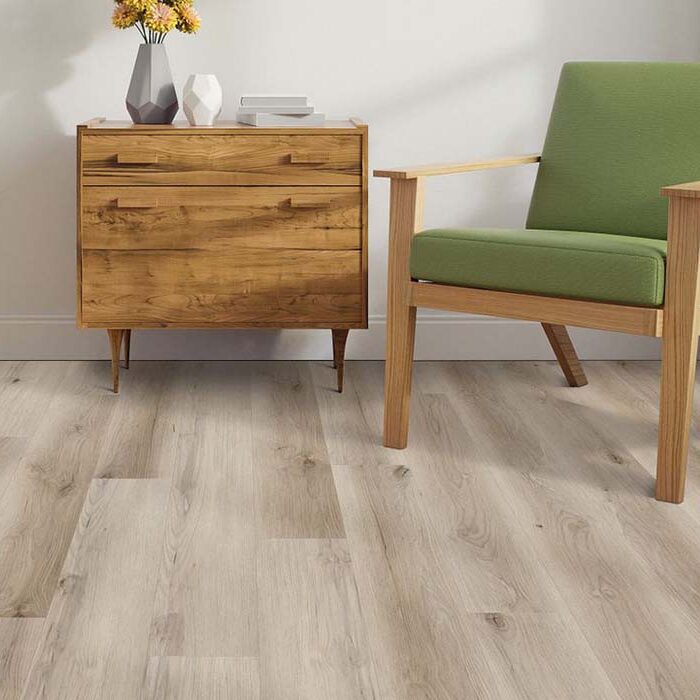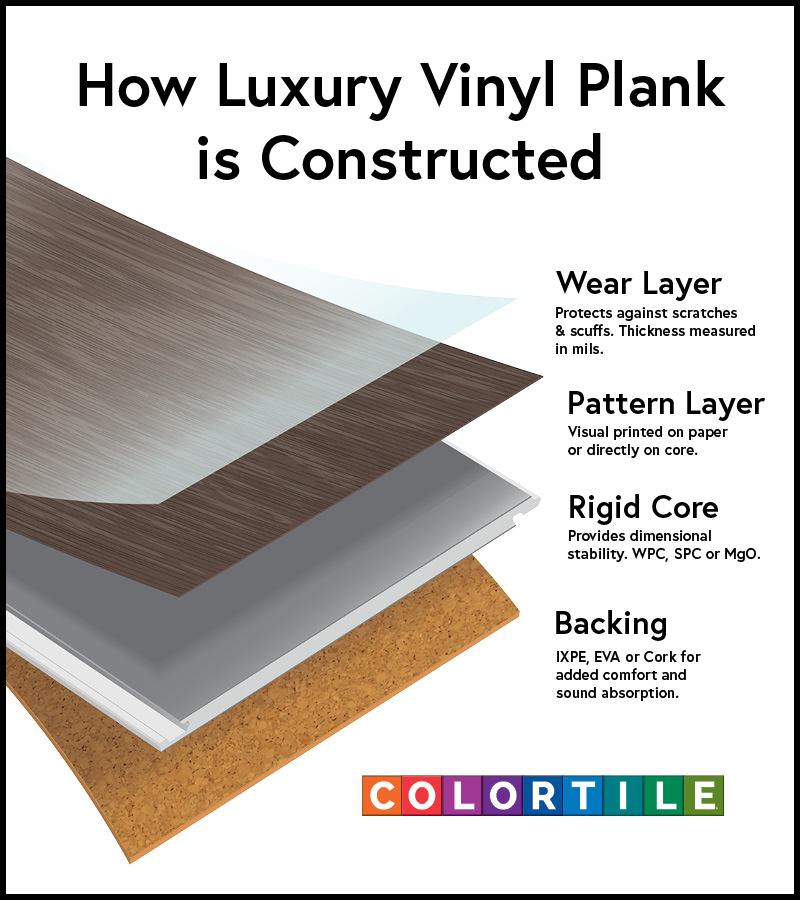 WPC stands for Wood Plastic Composite. This core is made of wood dust, plastic, and foaming agents. WPC is thicker, softer, warmer underfoot, and quieter than other composite options. It is also incredibly realistic looking. With WPC, installations are floating; that means they are not glued or stapled to the subfloor. 
SPC is the next evolution of rigid core flooring. It stands for Stone Plastic Composite. SPC's core exchanges the wood of WPC for stone, making a more complex, more dent-resistant floor that performs well within the home. 
Click-together luxury vinyl floors are rigid core floors that can be clicked together with a tongue and groove. With this type of flooring, installation is simple, and upkeep is just as easy. 
Glue-down luxury vinyl is installed in strips and glued to the subfloor. It comes in 2 – 4 mm thickness, has 10+ wear layers, and is highly performing. 
Loose lay is a luxury vinyl format that can be installed without glue or a locking system. The planks lay side by side and feature a grippy rubber backing.
Our selection of waterproof vinyl flooring is 100% waterproof, offering protection against everyday spills and stains. This is a great flooring option for families or households where pets are present. A waterproof vinyl flooring will look great and function well throughout a home. 
Luxury vinyl flooring resists the scuffs and scrapes of active homes with kids and pets. Thanks to its dense core, it also protects against dents and nicks. It's the perfect flooring for all members of your family!
This luxury vinyl flooring is treated with antimicrobial technology that limits the growth of microorganisms.