What is Waterproof Flooring?
In today's busy lifestyles, anything "blank-proof" automatically sounds like a great idea. Stain-proof? Life-proof? Hack-proof? Water-proof? No matter how you fill in the blank, all of the above means that though things may still go wrong, whatever happens will be less of a big deal. When it comes to floors, the term "waterproof" can be a little confusing. Exactly what does it mean? Read on to find out what you can expect from waterproof flooring.
Waterproof vs Water Resistant
Waterproof floors are exactly what the name implies. Made entirely from materials that are waterproof, this flooring will remain unaffected by water, no matter how long a wet spill or other moisture may remain on them. Examples of waterproof floors include luxury vinyl tile or plank, glazed ceramic or porcelain tile.
Don't confuse waterproof with water resistant, which is flooring that has been treated or coated with a waterproof material but does not have the same properties. Examples of water-resistant floors include engineered wood floors, some laminates, as well as stone. Water-resistant floors don't stand up to moisture as well as waterproof floors. Made of organic material that can eventually become damaged by wetness, spills on water-resistant floors should be cleaned up right away.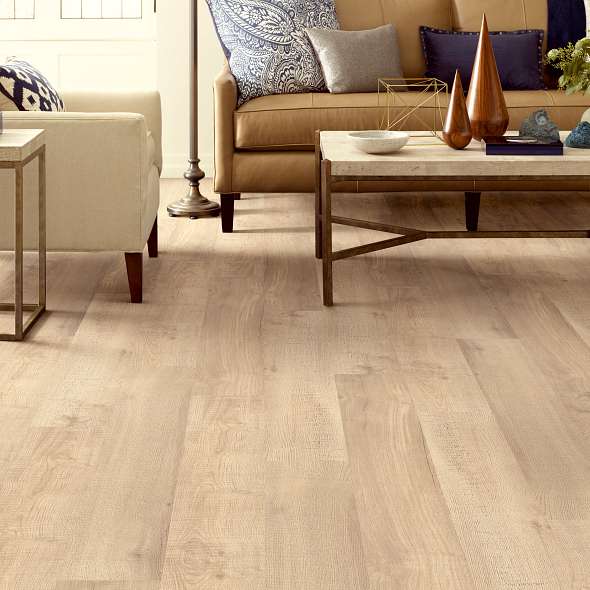 Which Flooring Type to Choose
Where should you absolutely use waterproof flooring? First, consider how much moisture will be present in your space. In damp basements, waterproof floors are definitely preferable. In fact, any organic flooring should be avoided altogether, because moisture can not only damage the floors but also grow bacteria, mold, or mildew. Kitchens, due to cooking and dishes, are also a great application for waterproof floors. In bathrooms, waterproof flooring is a must, for obvious reasons.
In areas that don't see a lot of moisture, waterproof floors are still advisable. In living areas with waterproof flooring, messes or spills from kids or pets are no cause for worry. And with the advent of new technology, even waterproof carpet is available, which literally will not absorb any liquids. Suddenly that spilled wine is no problem, as it can be easily blotted with a cloth, rather than become the permanent reminder of a party mishap.
Waterproof Flooring Simplifies Your Life
Today's busy lifestyles demand as much flexibility as possible. Choosing the right flooring solution can simplify cleaning routines and relieve any concern about how well your floors will tolerate your crazy life. Kids, careers, pets, or parties, waterproof flooring options will stand up to almost anything that is thrown at them. If you are ready to replace your fussy floors with something waterproof that goes with the flow, reach out to the team at Carpet Collection for your flooring needs. They can help you with design choices and steer you into something that will work perfectly in your space.